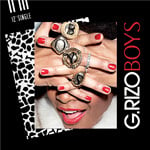 €

8.00 - On Sale
ARTIST: G.RIZO
TITLE: BOYS
LABEL: HEZEKINA POLLUTINA
CAT NO: HP002
FORMAT: VINYL / DIGITAL DOWNLOAD
RELEASED: 15 MARCH 2011
TRACK LISTING:
1. ORIGINAL VERSION
2. EGYPTIAN LOVER – EURO REMIX
3. DINAMICS REMIX
Boys is an undeniable hormonal howl* that makes you want to get down on your knees! Lascivious and lyrically over-the-top, it grooves to a broken-toy funk. Ring-tone staccatto-synths meet James Brown horn stabs, Tyco samples and hysterical vocals on a boisterous jalopy that gallops somewhere between dance and pop.
On the remix tip, Electro pioneer Egyptian Lover accepts the G.rizo 'Boys' invitation and comes with the lube. Adding his Midas touch - classic dirty bass with deep, sweet melodies - this remix is guaranteed to set off some late night booty grinds.
On the flip, Dinamics, a fine young upstart from Paris (and member of the Citizen Records crew) contributes a pumping, electro-Chicago house remix that will burn on the dance-floor.
*Reference: Eric Francis, Planet Waves Daily, June 3-10, 2002. In reference to the Pluto-sex connection.